My first published novelette, first published fantasy, and first published historical fiction are all out on newsstands today and they are all the same thing: "Small Towns," published in the January/February 2012 issue of The Magazine of Fantasy and Science Fiction!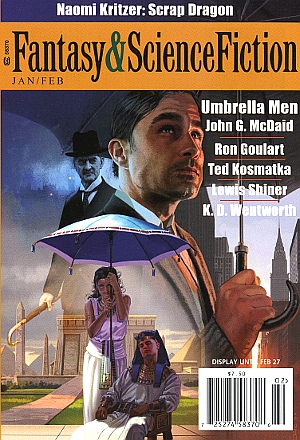 I hope all my stories have their own flavor, but this one is particularly idiosyncratic and I'm quite proud of it.
Here's the beginning, to whet your appetite:
Small Towns

When Jacques Jaillet was a small boy, he brought home a pocketful of sand from the seaside and dribbled it slowly onto the floorboards of his little room. He made long avenues and cottage roofs, rows of shops, garden walls, a church with a fragment of shell for the tower. Then, for no reason he could later recall, he took a deep breath and blew it all away, the shapes and the order, the grains themselves skittering under the baseboard, gone forever.

When Jacques returned to his market town in 1918, past his middle years, it looked as if here, too, a monstrous child had finished playing and had blown the town, the streets, the houses and shops from the face of the Earth.
I hope you'll go out and buy the magazine at your local newsstand or Barnes & Nobles. Portlanders, Rich's Cigar Store has copies!
Edited 1/13/12: F&SF is available for Kindle, as well!