The October/November double issue of Asimov's Science Fiction has been out to subscribers for a few weeks, and now it is available at bookstores and newsstands around the United States! My story "The Termite Queen of Tallulah County" appears in this issue, as well as ten other stories, novelettes and novellas from authors listed here.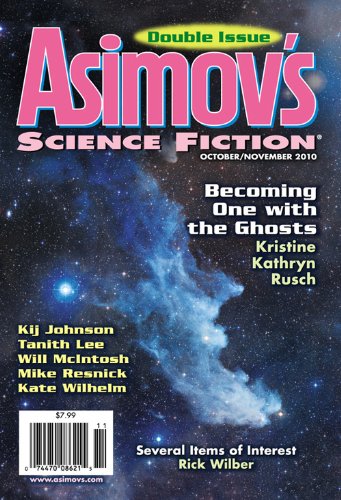 Getting a paper copy: Traditional newsstands often carry Asimov's. Many Barnes & Noble and Borders locations carry Asimov's, but it's best to call ahead if you've not seen it at that particular store before.
Portlanders allergic to big-box stores can head down to Rich's Cigar Store, which carries Asimov's in their extensive magazine collection. The main store on SW Alder has the most copies. Also, the main store will ship magazines to out-of-town customers — call them up!
Getting a digital copy: This issue is available digitally from Barnes & Noble and Amazon. I'll update this post when it comes out from Fictionwise and the Sony eBook store!
Many thanks to all who've expressed interest in this story, and to my early readers who helped it take form. Also, thanks to my grandma, for having termite trouble!
Update, 9/12/2010: The Sony eBook store now has October/November's issue available.
Update, 9/17/2010: Fictionwise has October/November available in several digital formats as well.