The January 2010 Asimov's Science Fiction with my story, "Conditional Love," is available on newsstands and at bookstores! Many Barnes & Noble and Borders locations carry Asimov's, and some independent bookstores — in either case, it's good to call ahead if you haven't seen previous issues there. The digital version does not appear to be available yet at Fictionwise, but I'll update this post with a link when it's available.
If you're looking for this issue on shelves, here's your quarry: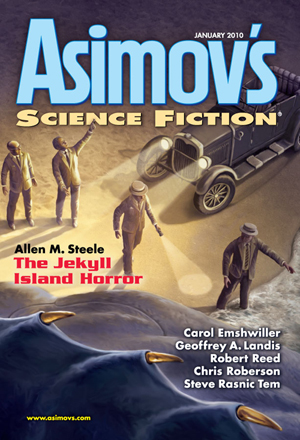 I'd like to keep this thread spoiler-free. If you'd like to discuss the story in depth, I can set up another thread for that, or you can hie you to the Asimov's fora.
In case anyone is wondering, yes, it's still incredibly exciting the second time around. The difference is that now it's my third story out, and my second in Asimov's, I can actually believe it without checking the table of contents every five minutes!
Thank you for your attention to this self-aggrandizing announcement.
Update, 11/24/09: The magazine is available digitally from the Sony eBook store. Have not found it on Fictionwise yet.
Update, 12/4/09: The magazine is now available digitally from Fictionwise. They sell all sorts of eReader formats and .pdf. Also, the magazine's on sale right now!
Update, 12/17/09: Rich's Cigar Store, an independent cigar and magazine shop in Downtown Portland, still has several copies of January's Asimov's, and they do ship. The February issue hits stands on the 22nd, so there are a few days left!